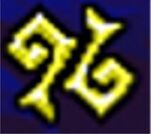 Wind Magic, is a type of Magic that manipulates the surrounding air. It can create winds, knock objects around and even blow away enemies. Wind Magic is influenced by the orbit of the Wind Planet, Puffoon.
Wild Wind Magic is used to start up machines, create winds and to make objects move.
Lassi is the Wind Magic user in your party.
List of Attacks
Edit
List of Wind Starsign Creatures
Edit
Choker
Skylancer
Funguroach
Rairbit
Anisoptera
Slashback
Boomeranger
Airpony
Hybrena
Happiloon
Wanderanger
Feather Vane
Pandemon
Shyclone
Horus
Manmoo Rider
Condemned
Haroeris
Clockwork Goat
Gazellebear
Short-fuser
Whimsy Bolt
Balloonfish
Dust Punisher
List of Wind Starsign Bosses
Edit
Monocorn
Storm Judge
Master Macadameus